Organization
Congress initiators and management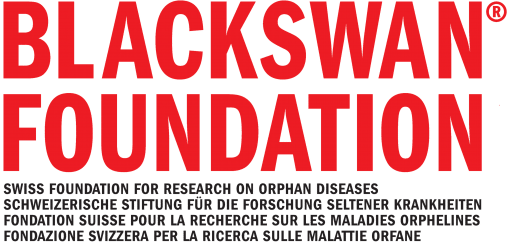 The BLACKSWAN Foundation is a Swiss foundation contributing to the development of research on rare and orphan diseases worldwide. The Foundation supports research on all different types of rare and orphan disease, which makes its vision unique and helps in finding new solutions that can assist a large variety of projects. Besides its funding research mission, the Foundation organizes every two years the RE(ACT) Congress, which became an international reference point for rare disease experts. The BLACKSWAN Foundation also launched the RE(ACT) Community, a crowdfunding and a knowledge sharing digital platform that connects researchers, patients and other rare disease stakeholders. Since 2015, BLACKSWAN Foundation has started an international advocacy and awareness campaign called #RAREvolution to ensure rare diseases are recognized as an international public health and research priority. The BLACKSWAN Foundation is member of Eurordis (non-governmental patient-driven alliance of patient organizations), Rare Diseases International (RDI – the global alliance of people living with a rare disease of all nationalities across all rare diseases) and ProRaris (Swiss alliance of patient organizations).

The National Center for Advancing Translational Sciences (NCATS) was established to catalyze a transformation in the way health interventions are developed and to bring more treatments to more patients more quickly. This required new fundamental principles and approaches to define the burgeoning field of translational science. Just as the understanding of cells and organs created a basis for the development of interventions for the diseases that affect them, so will the understanding of the translational process create a basis for more science-driven, predictive and effective intervention development for the prevention and treatment of all diseases.
Scientific advisory board (alphabetical order):
Jacques Beckmann, CH
PJ Brooks, USA
Alice Chen, USA
Jeanine D'Armiento, USA
Marisa Jaconi,CH
Daria Julkowska, FR
Stanislas Lyonnet, FR
Michael Morris, CH
Alexandre Reymond, CH
Hamish S. Scott, AUS
Eric Sid, USA
Jason Wan, USA
Lu Wang, USA
Organising committee (alphabetical order):
Suzanne Beaton, CIHR-IG, CAN
Cindy Bell, Genome Canada, CAN
Christine Cutillo, NIH/NCATS, USA
Jeanne Egar, CIHR-IG, CAN
Steve Groft, NIH/NCATS, USA
Paul Lasko, McGill University, CAN
Alex MacKenzie, CHEO, CAN
Chris McMaster, CIHR-IG, CAN
Olivier Menzel, BLACKSWAN Foundation, CH
Anne Pariser, NIH/NCATS, USA
Étienne Richer, CIHR-IG, CAN
Durhane Wong-Rieger, CORD, CAN
Congress secretariat and registration
Amiconi Consulting SA, Via al Forte 10 CH – 6900 Lugano
T: +41 91 921 38 12
Email: congress (at) react-congress.org
Amiconi Consulting is an internationally recognized company, which, thanks to its experience, professionalism and dynamism, is equipped to find efficient and innovative solutions for the organization of conventions, meetings, incentive travel programs, tours, seminars, meetings, product launches and events. Amiconi Consulting performs at the regional, national and international level. They provide a wide range of services from general advice to highly focused solutions.