The place to be
The Gehry building – Novartis campus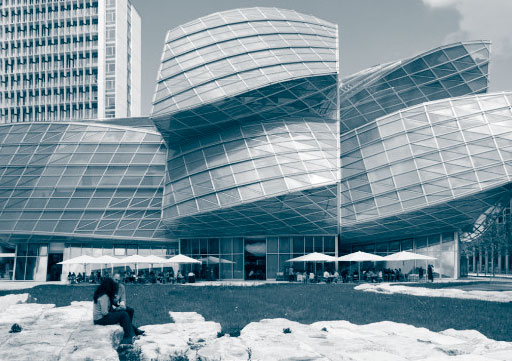 The Novartis building by Gehry Partners is part of the Masterplan for Novartis, designed by Vittorio Magnano Lampugnani, that will transform the St. Johann site, its headquarters in Basel, from an industrial complex to a campus of innovation, knowledge and encounter. 
The new campus will offer Novartis employees and visitors an environment for intensive levels of communication and work, which is ultra-modern, very functional, and aesthetically pleasing. The concept of openness, spaces flowing together, played a major factor in the design. The public areas, a restaurant and café, are located on the ground floor, which opens to the Campus Green. The Human Resources Departments occupy the five upper levels with a number of small public areas to encourage people to meet spontaneously for coffee or to hold informal meetings. A central atrium unites the building sections and reinforces visibility by allowing natural light to flow from the roof through all office floors and down to the underground levels where the auditorium lobby is located. The concept of openness and transparency is reinforced by the use of glass in the building's exterior design. Below ground is the Learning Factory for all campus employees, and a 600-seat auditorium with a glass ceiling and skylight connecting it to the Campus Green above. The auditorium can be divided into two separate rooms to hold simultaneous functions. The large sail-like shades inside reduce solar gain and glare and operable windows and large sliding glass doors on the ground floor encourage natural ventilation on warm summer days. The development of the architecture and the materials used exemplifies Novartis's commitment to the environment. To reduce direct solar heat gain the glass facades are coated with ceramic frits and the glass roof panels contain photovoltaic cells that generate the energy necessary to power artificial lighting for the building.

Access plan and safety guidelines
The RE(ACT) Congress is held in the Gehry Building on the Novartis Campus. Therefore we would like to familiarize you with the site safety guidelines.
The entrance of the campus is organized as follows:

FOR CONGRESS DELEGATES:Â 
→ 

Wednesday, March 5, 2014
  12 am to 10 pm
→ PORTE 54 / Hüningerstrasse, Tramstation Hüningerstrasse

→ Thursday, March 6, 2014 8 am to 8 pm
→ PORTE 54 / Hüningerstrasse, Tramstation Hüningerstrasse

→ Friday, March 7, 2014 8 am to 8 pm
→

 
PORTE 54 / Hüningerstrasse, Tramstation Hüningerstrasse

FOR PARTICIPANTS OF THE PUBLIC SESSIONS:

→ Wednesday, March 5, 2014 17 am
→ Novartis MAINGATE, Tramstation Novartis Campus
→ 

Saturday, March 8, 2014
8 am
→ 
Novartis MAINGATE, Tramstation Novartis Campus